Basic Life Support for Health Care Providers Course (BLS-HCP)
The BLS for Healthcare Providers Course has been updated to reflect new science in the 2015 American Heart Association Guidelines for Cardiopulmonary Resuscitation and Emergency Cardiovascular Care.
This course is designed for healthcare professionals and other personnel who need to know how to perform CPR and other basic cardiovascular life support skills in a wide variety of  in- and out- of hospital settings.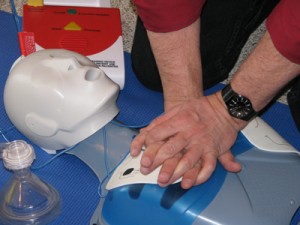 This video-based, instructor-led course teaches both single-rescuer and team basic life support skills for application in both in- and out-of-hospital settings. This course trains participants to promptly recognize several life-threatening emergencies, give high-quality chest compressions, deliver appropriate ventilations and provide early use of an AED. It includes adult, child, and infant rescue techniques. This course also teaches relief of choking.
BLS for Healthcare Providers teaches skills using the AHA's research-proven Practice-While-Watching technique, which allows Instructors to observe the students, provide feedback and guide the students' acquisition of skills.
Course Duration:
The course will take approximately 3.5 to 4 hours. Students will receive an AHA BLS-HCP card upon completion.
Course Cost:
Class fee for BLS-HCP for all healthcare providers is $60.
You may also renew your BLS in conjunction with ACLS 1-day Renewal or ACLS 2-day Provider. The cost for adding this class will be $55. Please see our ACLS schedule of classes to register.
BLS-HCP Manual will be available for purchase on the day of class for $15.
Course Notes:
Class size is limited –  Please register early!
(Click the link above to view schedule and register online. You may also call to register by phone)
CPR Heartsaver Courses Dates

More dates to be announced