Advanced Cardiac Life Support (ACLS)
Classes held at our Training Center at 1360 N. Dutton Ave, Suite 200, in Santa Rosa, CA.
Course Description:
This course is designed to teach you the lifesaving skills required to be both a team member and a team leader in the acute care setting. Because the ACLS Provider and Renewal courses cover extensive material in a short time, you will need to prepare beforehand.
These courses will provide training in a supportive, interactive environment. Case studies and videos are utilized to provide opportunity for integrating knowledge and practical skills.
The ACLS courses will only review algorithms, ECG, and pharmacology information. You need to understand the ECG and Pharmacology information in the pre-course assessment test to successfully complete the ACLS Renewal course.
Note: For those participants needing to renew their BLS-HCP (CPR) certificate, you have the option to do this on the day of class. This add-on will lengthen class time by approximately 60-90 minutes.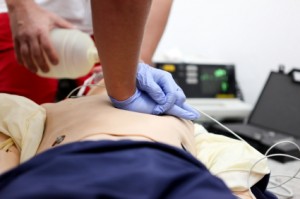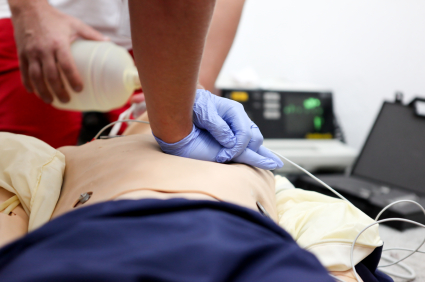 Course Prerequisites:
**AHA has mandated that the latest edition ACLS Provider Manual is required for class. You must bring the textbook to class. Attendees who show up to class without a book will be required to purchase the book if available, or be rescheduled**

**Also, the AHA requires that you complete their online Precourse Self-Assessment, and bring your results with you to class.
Per AHA, you will not be permitted to attend class without the student manual and a copy of your Precourse Self-Assessment results.**
Participants for the ACLS Renewal must have current ACLS and BLS Provider Cards. (If your ACLS card expiration is more than 30 days past its date, you must attend the full 2-day Provider Course.  Please call us or check with your employer regarding possible grace periods.)
It is recommended that students attend the ECG/Pharmacology Course prior to taking the ACLS Provider course for the first time, or prior to taking the ACLS Renewal Course for those needing to review this material.
Please be sure to view our refund and cancellation policy before registering for classes.
Course Objective:
At the end of this course, the participant will be able to:
Demonstrate proficiency in Adult Basic Life Support as initial Code response

Demonstrate use of adjuncts for airway management

Identify and state critical interventions for life threatening dysrhythmias

Define function of electrical defibrillation and cardioversion

Demonstrate knowledge and skills necessary to manage the first 10 minutes of a witnessed VF/pulseless VT arrest
Course Fees:
| | | | |
| --- | --- | --- | --- |
| Course | Course Fee | Add Book | Add BLS |
| ACLS 1-Day Renewal Class | $ 160 | $ 55 | $ 55 |
| ACLS 2-Day Provider Class | $ 230 | $ 55 | $ 55 |
(Click the link above to view schedule and register online. You may also call to register by phone)
(Click the link above to view schedule and register online. You may also call to register by phone)